an open-air garden gallery
As cities grapple with the changing climate, past responses of brute force are no longer sustainable. Strong arm approaches are unforgiving when failures arise and create catastrophic results out of an already disastrous event. In Los Angeles, decades of strict wildfire control created an unbalanced system out of a natural phenomenon, leading to further catastrophic results of mudslides and flash flooding. Amid climate change, our understanding and connection to biological systems are critical. This project seeks to bring back a more ancestral knowledge of the land and educate residents and visitors of LA about their role in local ecological systems.
In the past, indigenous people have observed a more harmonious lifestyle with the land they inhabited. According to Kat Anderson, in her book Tending the Wild, Native Americans used the word wilderness to negatively describe land that has become overgrown without being tended to and maintained by people. Un-Wild seeks to create an educational public gallery that educates people about living more harmoniously with their environment. 
Situated in downtown Santa Monica, this project transforms the underutilized site behind the metro station. The design aggregates a series of galleries throughout dry and wet gardens. The integration of built and ecological systems provides various sustainable functions such as reducing urban heat gain, rainwater collection, and habitat restoration while simultaneously educating visitors on our role and connection to the natural world. 
Location:
Santa Monica, LA
| Year:
2019
| Type:
individual academic project 
| Institute:
University of Virginia 
| Advisor:
Charlie Menefee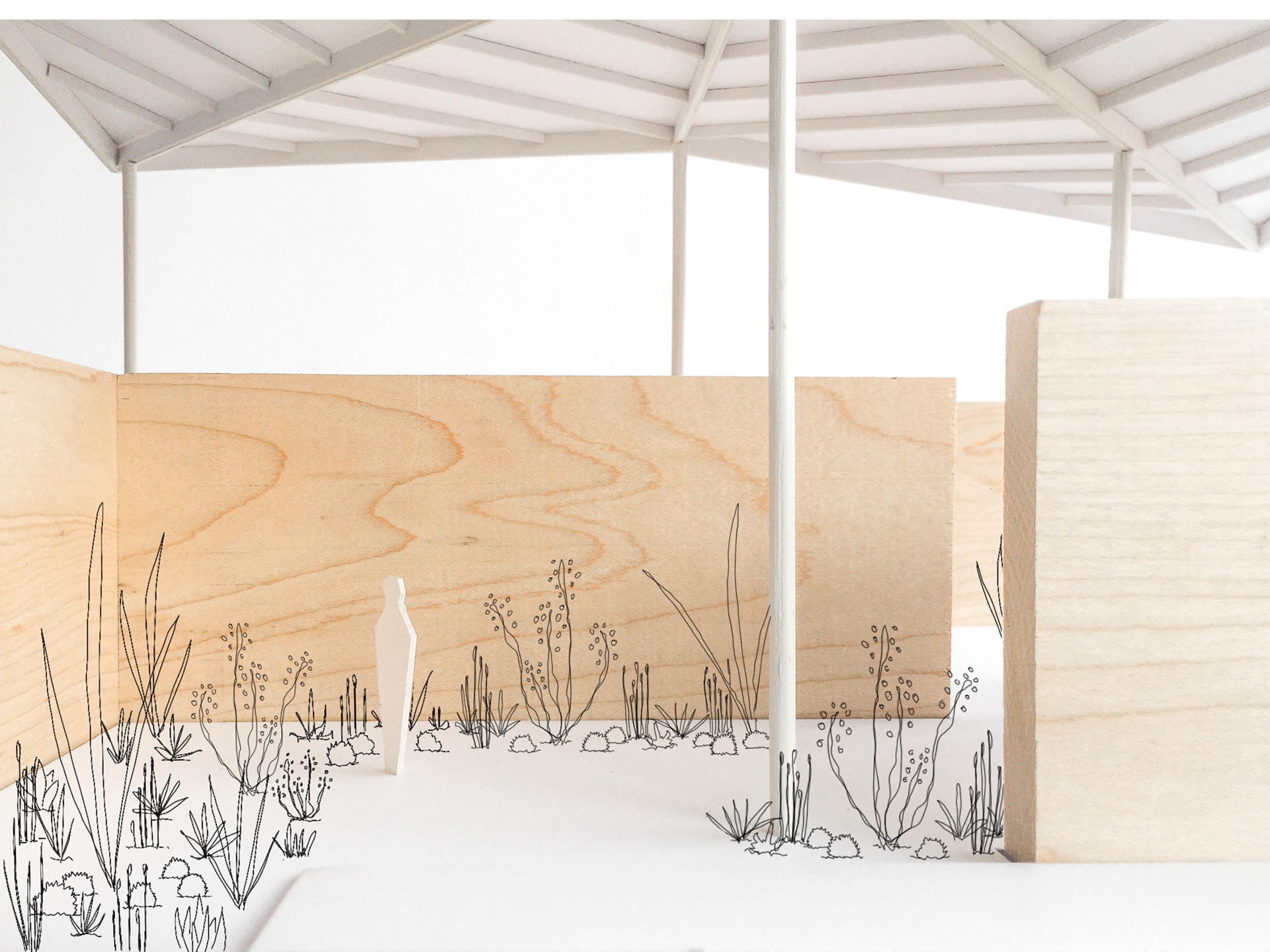 This design combines a nature learning center program with a public garden to create an open-air educational gallery that serves more as a public space adjacent to the train station than an enclosed, private museum. Galleries, classrooms, and workshop spaces are aggregated through a public garden, welcoming all to engage in a fluid and organic manner. This center provides the city with flexibility - offering daily visitors the chance to casually interact while giving the local community a structured place for classes and events.
The aggregation of spaces results in a rhizome-like structure with no beginning and end. Each area flows into the next, allowing people to move fluidly in a non-linear manner throughout the site. The experience of this spatial organization aids in the understanding of how ecological systems are interconnected by promoting a non-linear engagement with the gallery.
The design overlaps separate structural systems - roofs, walls, and floors - throughout a garden at varying degrees to create spaces that fluctuate in their degree of enclosure. The undulating roof structure collects enough water to support the gardens during the dry season. This collected water supply also serves as a geothermal heating/cooling system for the enclosed buildings. Together these individual systems become multi-functional.